Friends,
The status quo can no longer stand. As so many of us recommit (or awaken) to this truth, and roll up our sleeves to cultivate the promise of this season, I believe we must also reckon with its pain and casualties. I've often compartmentalized or avoided feeling the devastation caused by the assault on Black life, the fallacy of white supremacy, state-sanctioned violence, inadequate and inequitable healthcare, and economic stratification around the globe. The COVID-19 pandemic and the recent string of video recorded murders compel me/us to be present to what we have accepted as the status quo. And in this, I find hope.
I am clear about my role as a global citizen, Black woman artist and Founding Producer at Kuyamba Media. I create authentic depictions of Black community life. Through my films, I aim to decolonize memory and imagination. To reveal, inspire and allow us to heal. In this season, I am inspired to focus in on my contribution/assignment while standing in solidarity with you as you focus on yours.
Friday, June 19 | FINDING COMMON GROUND: HOW LOCAL PUBLIC TELEVISION STATIONS AND FILMMAKERS CAN WORK TOGETHER IN A TIME OF CRISIS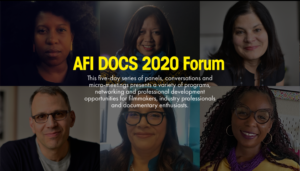 The closest thing you will find to "patriotism" in me is my love for three institutions: the public library, public transportation and public television. I get to geek out about the latter of those this Friday on a panel at the online AFI DOCS film festival. If you would like to tune in, see the details here.
It's been a minute since I've written you, so here is a quick list of other recent happenings at Kuyamba Media:
The WHAT'S IN A NAME? team has wrangled 11 years of footage into a smooth system. Whew! Khalil's story of becoming the father he always wanted is getting closer to postproduction.
The REUNION CHOIR team stayed connected to our main participants while we all waited out the quarantine. Filming will resume as soon as it is safe to do so.
I handled archival research for Ema Ryan Yamazaki's MASAZUMI CHAYA: KEEPER OF THE FLAME, which premiered on NHK (Japan's national broadcaster) in commemoration of Chaya's retirement from the Alvin Ailey American Dance Theater.
THEY SAY I'M YOUR TEACHER, a historical short from Catherine Murphy and Lucy Massie Phenix, had a great festival run. I was honored to consult on the identification and transfer of 16mm archival material.
I'm supporting a few additional indie docmakers as Archival Producer and Creative Producer; I'll share more as their powerful projects reach completion.
My American University course (Writing the Doc) survived the transition to online classes this spring. I congratulate my students for turning out inspired work despite the disruptions!
Friend Shout Outs:
June 29-30, my colleagues at AND SHE COULD BE NEXT air their two-part film following gamechanging women in the 2018 election cycle. I had the honor of providing production support when they filmed in DC. (Look for the Capitol Hill scenes!)
Attorney and justice reform scholar Kristin Henning speaks brilliantly about the policing of Black youth – and about solutions – in this Politics and Prose talk. The entire discussion is edifying, but you can hone in on her remarks beginning at 14:16.
Thanks for your time. Let's stay committed, present and hopeful.
Malkia