Kuyamba Media has weathered the pandemic gratefully, and sometimes even gracefully. We continue to send love and solidarity to the many, many impacted by Covid-19 and the injustices it more plainly revealed. And while we believe in acknowledging loss, we are also committed to sharing and celebrating the many wins we've experienced since late 2020: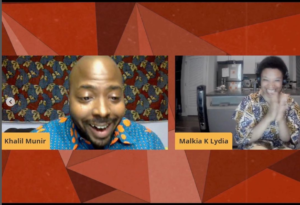 What's in a Name? was a winner at PitchBlack 2021, earning a production award from Black Public Media, the PBS home of premiere documentary content about the Black experience. We have completed principal photography on the film, enduring multiple shutdowns and strategy revisions to protect our participants and crew.
Reunion Choir was selected for the inaugural Hayti Heritage Film Festival work-in-progress lab with Working Films. The focused workshopping and consultations led to an even stronger, more compelling story structure and some incredible pitch opportunities. Reunion Choir is now prepping for postproduction!
Additionally, Malkia's handiwork as an Archival Producer and researcher was seen in feature docs by Colin Barnicle/Barnicle Brothers, Ema Ryan Yamazaki/NHK and Byron Hurt/ITVS.